Recognize, Reduce and Manage: April is Stress Awareness Month!
April is National Stress Awareness Month. The Veterans Affairs (VA) Caregiver Support Program (CSP) offers resources to help caregivers recognize, reduce, and manage stress.
Each day, caregivers support the health and wellbeing of our nations' Veterans. CSP acknowledges that this can lead to potentially stressful situations and is here to support you! We can help you become more aware of stress, find ways to care for yourself as a caregiver and support healthy relationships while recognizing and managing this stress. We have a wealth of activities and material to support your self-care. From self-care exercises to an enrichment journal, click here for self-care activities for caregivers:
https://www.caregiver.va.gov/Self_Care_Activities.asp.
Caring for your Finances as a Caregiver
Are you balancing a budget? Need an emergency fund? Planning for your financial future?
April is National Financial Literacy Month.
To help foster literacy in understanding and caring for finances, CSP teamed up with the USAA Educational Foundation to present a series of videos to assist caregivers in establishing a budget, building an emergency fund, and getting an estate plan together.
Learn more: https://www.caregiver.va.gov/support/Caring_for_your_Finances.asp.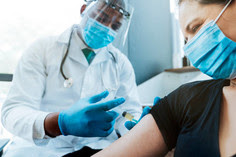 SAVES LIVES Act and Keep Me, Informed Tool:
This past March, the newly enacted SAVE LIVES Act allows VA to provide COVID-19 vaccinations to all Veterans, spouses, and caregivers! This opportunity for expanded benefits is extraordinary. Please keep in mind the expanded authority depends on readily available COVID-19 vaccine supply.
Receive the latest information about VA COVID-19 services through the VA's new Keep Me Informed tool. This resource helps Veterans, spouses, and caregivers stay on top of the latest information and ask questions regarding VA's COVID-19 services, including vaccinations. You do not have to be enrolled in VA healthcare to subscribe to Keep Me Informed and can access the link here: https://www.va.gov/health-care/covid-19-vaccine/stay-informed
Need help?
Visit www.caregiver.va.gov or connect with the Caregiver Support Coordinator at
your local VA Medical Center.to learn more about the support that is available to you.
---
For Mental Wellness HELP in East Central Minnesota
In a life threatening situation or medical emergency, call your doctor or 911.
CRISIS phone line:
Call 800 523-3333 or text the word "MN" to 741741
Just need to talk to someone?
Wellness in the Woods 5:pm – 9:am Daily 844-739-6369
Minnesota NAMI Warmline 4:pm – 8:pm Thur – Sun 888-334-7754
Mental Health Advocacy Minnesota Warmline 5:pm-10:pm Mon – Sat 877-404-3190

Click here for additional information